18 Aug 2022
Meet Our Team —

A Story Of Resilience, Determination & Passion
"I probably got more than 100 rejections from a well-known fast food chain, because I was either overqualified or 'not suitable'. I think employers see my name on an email and become reluctant, they see it as too hard."
Alchemy Project Engineer, Shabab Salahuddin speaks about the winding road to a successful career in construction in Australia.
Shabab Salahuddin, Project Engineer at Alchemy, came to Australia in 2017 having spent 3 years rapidly climbing the construction ladder in his native Bangladesh. Son of a military Intelligence Officer, Shabab lived an admittedly privileged and sheltered existence in comparison to the majority of Bangladeshi people; he attended private schools and lived in gated compounds.
He also had the opportunity to travel internationally with his family, which gave him the travel bug and saw him move abroad. After one year of studying architecture in Bangladesh, Shabab decided he wanted to experience studying abroad. Malaysia was the destination of choice and it was here that he began studying Mechatronics Engineering and then changing to Banking, Finance and International Business at Monash University just outside of Kuala Lumpur. His curious and personable nature led to him being made Head of Publicity for the 8000-strong international student cohort, something which he believed spurred his desire to move to Australia. "I was interacting with almost every international student on the campus, learning about their food, their culture, their norms, their traditions. We would join Christmas, they would join Eid. Those four years were pure education for me. Not only from an academic standpoint but for life experience too."
"I went to British schools and Australian universities and still, I have to complete an English test for every visa I apply for. South-East Asians have to provide way more documentation than Europeans and Americans. Police checks, finance checks… even a visitor visa is cumbersome."
Upon returning to Bangladesh after completing his studies at Monash, Shabab fell into a temporary communications role with AFC Health Limited, before he was approached by a senior leader in the business who offered him a role on a construction project. AFC were building five hospitals across the country, in regional centres that lacked facilities and resources, and they needed a Project Officer. A fast learner, Shabab was soon promoted to Project Manager and oversaw the building of the hospitals, often flying to three cities in one day, something he found as exhilarating as he did challenging. "We were building hospitals for the people in need in regional areas, and that really just gave me the extra bit of motivation just to do it. I ended up finishing four out of five of the hospitals before I came to Australia."
Although Shabab gained invaluable on-the-job project management skills at AFC, the lack of university credentials in his chosen area was holding him back from landing another construction role. Having studied at Monash in Malaysia, he decided to apply to a number of Australian universities and chose La Trobe University in Victoria to take on a Masters of Project Management. The decision to move to Melbourne was a sensible one, to improve his career prospects rather than to move permanently. "I wasn't really planning on staying in Australia after my degree. It's costly here. I had gotten a scholarship but I was fortunate enough that my parents were covering most of the tuition fees. I could only work 20 hours a week legally which was really limiting in being able to find a job in construction."
Shabab speaks of the all-too-common obstacles he faced as a South-East Asian person in landing a job in Australia, "After a month or so of searching, I had to just apply for anything I could get. I probably got more than 100 rejections from a well-known fast food chain because I was either overqualified or 'not suitable'. I think employers see my name on an email and become reluctant, they see it as too hard. I went to British schools and Australian universities and still, I have to complete an English test for every visa I apply for. South-East Asians have to provide way more documentation than Europeans and Americans. Police checks, finance checks… even a visitor visa is cumbersome." Eventually, Shabab got a job at Coles on the shop floor. "I wasn't really satisfied, I wasn't happy. To me, I was losing precious years out of my career growth."
The much-coveted step out of the job at Coles arose through a family contact. The friend mentioned they had worked with Jamie (Nicolson) who'd just started a new construction business in Melbourne, doing a number of jobs at Monash University. With the help of that mutual contact, Shabab was introduced to Jamie, who reached out and asked him to come and meet the team. Shabab was finishing university exams so dashed from the exam hall to the interview at Alchemy HQ in a matter of hours.
"I had almost no time to prepare ahead of the interview. I also had very little practical understanding of the Australian construction industry. The industry here and construction in Bangladesh, they're completely different. In Bangladesh the standards and the practices are different. Even the construction methodology is completely different. So, I was just trying to respond to their questions as genuinely as I could, by being honest. I mainly wanted them to know that I am a quick learner, I grasp things fast and I am up for the challenge. The interview ended up going on for an hour and a half meeting with the team. The next day, I had a job offer."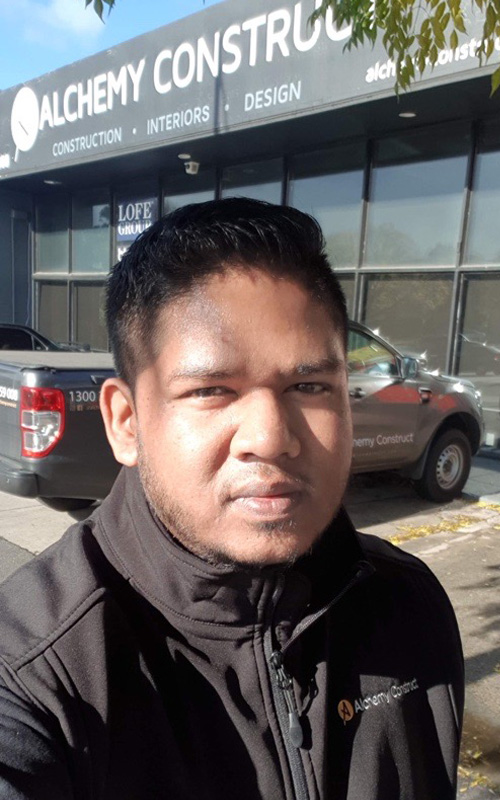 "I just love working in construction. It's a puzzle that you're solving every day. There are always new things coming up, new challenges. I don't really know what's going to happen tomorrow on site that I am going to have to figure out. I know not everybody loves uncertainty, but I just love that element of solving the puzzle."
Shabab still had one semester left to complete at university upon taking the job at Alchemy. "I was working at Alchemy but I was also doing my last semester. I was in classes during office hours and then coming back in the later hours. And they were flexible with me which was amazing."
Shabab touts Alchemy as the main reason for staying in Australia. "Alchemy has been my family and my support system in Australia. When I graduated during COVID, my parents couldn't come so Jamie and Pauline, one of our project managers, came to the ceremony just so that I didn't feel alone. At the end of the graduation ceremony, Jamie asked, 'Can I have your certificate?'. He took it and went and framed it for me and handed it back to me. It was a wonderful gesture. I was emotional."
During the pandemic, Shabab's mother fell very ill and he decided to return home for an undefined period. "I had to leave at a week's notice and they said, 'Just tell us what you need and we'll sort the rest, your visa, whatever.' Honestly, nobody does that." The team at Alchemy were unsure Shabab would return but sure enough, he is back on Australian soil with his wife (an old school friend), joining him.
When asked why he came back, Shabab explains, "Australia is wonderful, the quality of life here is exceptional and it's hard to put into words how grateful and how lucky I feel to be with such a fantastic group of people at Alchemy. Not only that, but I just love working in construction. It's a puzzle that you're solving every day. There are always new things coming up, new challenges. I don't really know what's going to happen tomorrow on site that I am going to have to figure out. I know not everybody loves uncertainty, but I just love that element of solving the puzzle."